Directions to Culbertson Park, Long Beach, WA -
From Seattle go south on I-5 ~63 miles. Merge onto US-101 N via Exit 104 to Aberdeen / Port Angeles and continue ~6 miles. Take SR-8 toward Montesano / Aberdeen for ~21 miles. SR-8 becomes US-12 W for next 10 miles. Take Junction SR-107 ramp toward Montesano / Raymond for ~0.2 miles. Turn left onto S Main Street (SR-107) and continue 8 miles. Go left onto US-101 and continue another ~64 miles.
Turn right onto Pacific Avenue S / Pacific Way (SR-103) and travel 1.3 miles. Turn right onto Bolstad street and go ~0.1 miles to Washington Avenue S.
Total driving distance from Seattle is ~175 miles.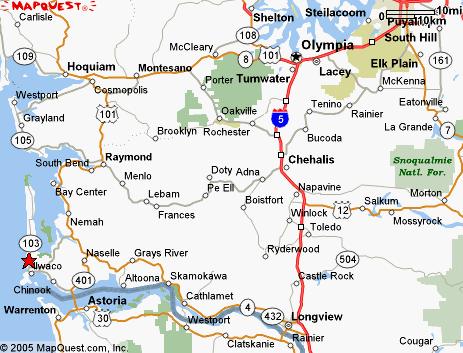 More Detailed Map of Long Beach.