Directions to UBC Gage Towers, Vancouver, Canada -
From Seattle go north on I-5. Seattle to the Canadian Border is ~111 miles. At border I-5 becomes Hwy 99. Continue on Hwy 99 for ~25 miles.
Just after crossing the Oak Street Bridge, go right on exit ramp to SW Marine Drive going west. Go ~0.6 miles and veer right to Granville Street. Go ~0.2 miles and turn left to W 70th Avenue which allows you to continue on SW Marine Drive. Go ~6.0 miles and turn right on W 16th Avenue. Go ~0.6 miles and turn left on Wesbrook Mall. Go ~1.1 miles and turn left on Student Union Blvd.
Park in front of the towers while registering and unloading car. Registration is in the one story building at the base of the towers that connect them together.
Note that with increased border security, you may need your passport to cross. If you are entering Canada at a busy time of the day, you may want to cross at the Truck Crossing instead of the Peace Archs.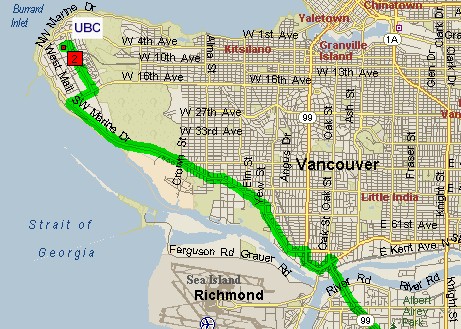 More Detailed Campus Map.